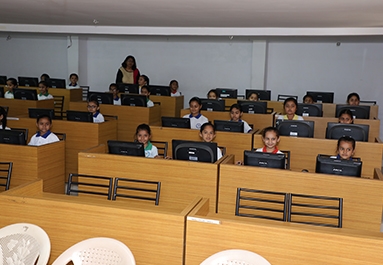 Computer Lab
The air conditioned computer lab is well-designed and run by qualified teachers, with one-on-one access, which means there is one computer for each child. Visual classroom facilities are provided to teach computer software to the whole class at a time. They are state-of-the-art with multimedia, most of them with 17" LED, generate less heat and consume less power, thereby keeping the classroom atmosphere comfortable for children. We use our own LAN with the latest operating system for teaching-learning, documentation and presentations.

Read More!Read less!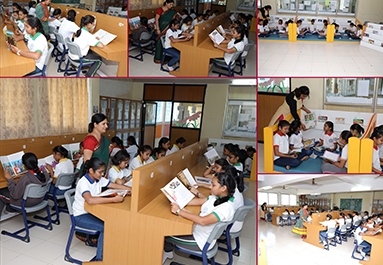 School Library
A school library is a place in school where students, parents and staff can have access to a variety of resources. The library houses a fine set of reference, fiction and non-fiction books that caters to the varying reading levels of different age groups. It is well furnished and spacious, with comfortable tables and chairs that make for a pleasant reading experience. The school library functions as a central location for all of the information available and a school librarian functions as the literary map to the resources and materials found within the library. We encourage students to read through two programs i.e. DEAR [Drop Everything And Read] and SSR [Sustained Silent Reading]. The school subscribes to several periodicals including magazines and daily newspapers, story books, biographies, general knowledge books and many more.

Read More!Read less!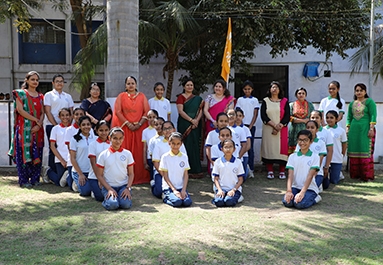 Classrooms
The classrooms are well ventilated. The rooms are furnished with independent tables and chairs that ensure comfortable study conditions as well as flexibility of arrangement. Most classes are equipped with multimedia projectors and enable students to easily connect with studies through audios-videos, pictures, PPTs and quiz worksheets. The importance of technology in the classroom goes even beyond simple digital literacy: it promotes workplace soft skills like critical thinking, independent research, and cross-technology proficiency.

Read More!Read less!
Our Teaching Methodology
Learning through Inquiry
Learning In Real-Life Contexts
Learning through Exploration
Language Development and Literacy through Activities
Early Numeracy Development through Play
Indoor activities focus on
Indoor sports include Yoga, Meditation, Pranayama, Chess, Carom and Table Tennis.
Developing the five senses through Montessori Sensorial Program
Developing foundation for language skills
Developing interest in reading through story books
Developing foundation for math skills
Developing fine motor skills
Developing scientific skills through observation, discovery, enquiry etc
Outdoor Activities focus on
Outdoor sports include Throw ball, Basket ball, Kho-kho, Kabaddi, Hand ball, Skating, Rope climbing, Mass PT, Calisthenics, Marching, Athletics.
Developing physical skills
Developing spiritual skills
Developing social skills
Dance and rhythm
Students and staff use computers
Making presentations
Printing documents
Downloading/uploading online files
Communication skill reinforcement of learnt skills
Research skills
Lesson plans
Reporting and maintaining progress